VoIP for
dental practices
VoIP phone systems are ideal for dental surgeries. With VoIP (Voice over Internet Protocol), your calls are made and received over an internet connection. These cloud-hosted solutions mean that your dental practice doesn't need to have an on-site phone system setup, which saves on space, cost and maintenance.
VoIP is a much more flexible option when compared to analogue systems, as users can join calls from multiple devices, including mobile, desktop and deskphones. VoIP provides the best communications setup for your dental practice, allowing you to focus more of your efforts on patient care and maximising appointment bookings.
Benefits of a cloud-based
phone system for dentists
By implementing effective communications strategies within your dental practice, you can increase your annual Units of Dental Activity (UDAs) by quickly recognising and prioritising patients that require a higher value Course of Treatment (CoT). You'll also ensure that no call goes unanswered, meaning you won't miss out on potential new patients.
Increase appointment bookings
With a VoIP phone system, you can manage calls more effectively, meaning no call goes unanswered. This ensures you don't miss any important patient bookings.
Prioritise appointments
Computer Telephony Integration (CTI) means you can merge patient data with your phone system to help you prioritise the patients you are speaking to whilst on the phone.
Improve customer service
Gain access to your patients files whilst on the call with them to provide a better customer experience and transfer or reroute calls appropriately so they speak to the right person.
Scale up or down
Scalability is one of the biggest benefits of VoIP. Add more phone lines with ease as your dental practice grows or scale back down when you need to..
Communicate on the move
With VoIP, you can still access your dental practice phone system when you're at home, on the move or in the office.
Benefit from innovative features
Our VoIP deskphones come with a wide range of features, including call recording, call reporting, voicemail, on-hold marketing and much more.
Clearer call quality
When used with a stable internet connection, VoIP phone systems offer clearer voice quality than analogue systems and also offer high quality video calling.
Reduced costs
With less setup costs than analogue systems and the ability to scale up or down so you only pay for what you need, VoIP offers many cost saving benefits.
Safe and secure
Security is our number one priority, so we keep your line secure so that all patient information remains confidential at all times.
A quick look
at HiHi3
HiHi3 is a highly intuitive, Google certified business phone, which incorporates essential phone
features with the ability to be customised to suit your needs.
Discover more by hovering over the teal circles on the image below.
VoIP Deskphone
HiHi3 is built with an Android operating system, giving it an interface similar to most smartphones. Intuitive to use, HiHi3 provides an enhanced user-experience.
Global Address Book
Easy-to-use phonebook, plus the ability to share an electronic directory between everyone in your company with employees contact details.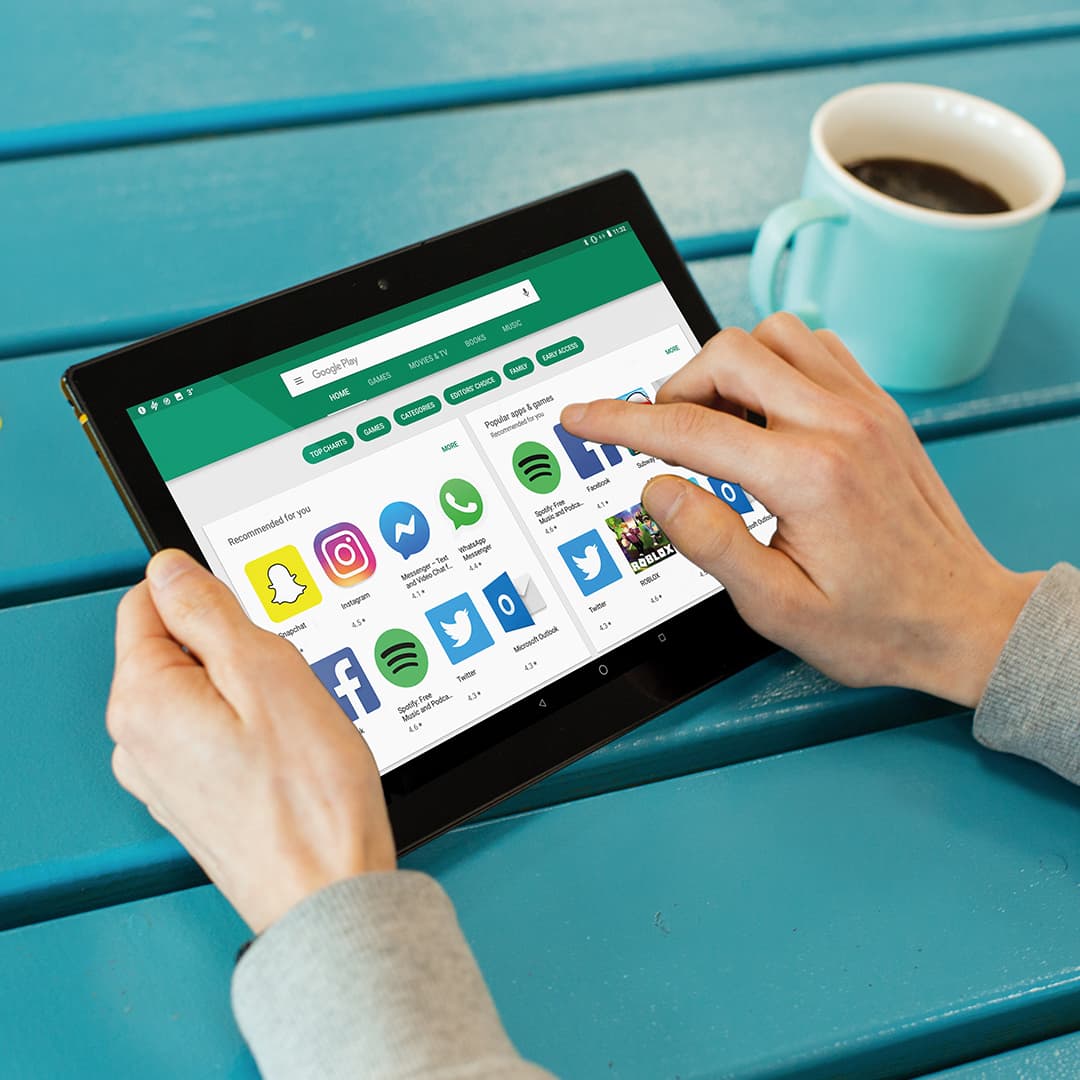 Access to Google Play Store
With access to Google Play Store, you can download any apps you wish, giving you the advantage of using your HiHi3 as more than just a phone.
Video Calling
Enjoy face-to-face communication on HiHi3, which allows you to make and receive high quality video calls between HiHi devices.
Customisable Homescreen
Personalise your homescreen with your own choice of wallpaper and widgets. Add your schedule, to-do lists, weather updates, breaking news and much more!
Removable tablet
HiHi3 is built as two components to make hot desking easier. The tablet gives you access to everything on your HiHi3, so you can remain connected from wherever you're working.
Favourite Contacts
Add contacts as a favourite so they appear in a separate list on your homescreen, giving you the ability to initiate a call in just two touches.
Features of our
dental practice phone systems
A feature-rich phone system allows your staff to gain control over their patient communications, even at the busiest of periods. Some of the best features offered with our dental practice phone systems are as follows:
Computer telephony integration
Integrate patient records with your telephone system to access their files while you speak to them.
Video calling
For a more personalised approach, benefit from video calling your patients or colleagues.
Voicemail
Customise your voicemail messages for specific situations, whether that be out of ours calls or busy periods.
On-hold marketing
Keep your callers engaged when they are on-hold with on-hold marketing messages and music.
Automated attendant
Save your staff's precious time by allowing your phone system to do the hard work of directing calls to the right place.
Call transfer
Work in a more cohesive manner with the ability to transfer calls from one device to another without having to hang up on your patients.
Call rerouting
Reduce your patient's frustrations by ensuring they still get to speak to a relevant person by automatically rerouting calls that cannot be answered.
Call recording
Call recording allows you to record and listen back to calls for training purposes, or to record abusive patient calls and more.
Call reporting
Gain an in-depth understanding of your clinic's communications, from tracking any missed calls to understanding how long each call takes so you can make a plan to maximise efficiency.