What is
cloud telephony?
Instead of storing the network and routing elements of a business phone system somewhere in your office, cloud-based telephony takes everything offsite. This type of phone system is hosted in the cloud, which essentially means your data is securely stored on a server that can be accessed via the internet.
When it comes to using cloud telephony, you and your staff won't notice any dramatic differences. For phone users, very little changes and calls are made and received in the same way.
Behind the scenes, however, your calls will be processed in a new way. Instead of being routed through an on-site PBX, your calls will now be sent directly to your phone thanks to the innovative switches in our cloud system.
Is cloud-based telephony
right for my business?
From the perspective of the phone user, nothing really changes. You still make and receive calls in the same way you would with an on-site phone system, but it's the way in which your calls are processed which is different. Rather than calls being routed through your on-site PBX, they are instead routed directly to your phone, thanks to the switches held in our cloud system.
Small start-up or nationwide company, cloud-based telephony will work for businesses of any size. Designed to improve the efficiency of your business, there are plenty of advantages to making the switch.
Benefits of
Cloud Telephony
A cloud-based PBX system replaces traditional phone lines completely, so when the time comes to expanding or changing your services you won't have to worry about rerouting wires and interrupting your staff at work. Less maintenance is required too, saving you time that's better spent on other tasks.
With a fast setup and less maintenance required, cloud-based telephony tends to be a much cheaper option for most businesses.
With cloud-based telephony, your company can take advantage of Call Reporting, Call Recording, multiple Voicemail inboxes and the ability to use services remotely on a mobile, alongside many other advanced features. You'll also have a range of call management tools at your disposal, helping you to keep track of your relationship with clients.
With the routing and organisation of your business phone system taken care of by a series of switches in a reliable data centre, you're less likely to run into issues with cloud-based telephony. Our switches are actively monitored by our team and have redundancy in place, so if one were to fail, a second would automatically takes it's place and your services would continue.
Our cloud-based
telephony products
Here at 4Com, we're thrilled to be one of a select few resellers of the cloud-based business phone system HiHi2. Revolutionising the way companies develop relationships with their clients, HiHi2 is packed with useful features; from video calling and and support, to a dedicated mobile application creating a true Unified Communications solution. What's more, with 4Com you'll gain access to exclusive applications such as Call Reporting and Call Recording.
Discover more about cloud-based telephony service HiHi using the link below.
Find out more
A hosted phone system is one where the majority of the routing component of the call happens off-site, usually in a data centre. This is different to an on-site system which would normally have a PBX in your office handling the initial routing.
Cloud-based VoIP means that you are using VoIP (Voice over Internet Protocol) capable phones and that the routing component of the call is done off-site, in a data centre. It is possible to have on-premise VoIP, which would require a switch to be installed at your office.
A cloud phone is part of a cloud based phone system. These phones send and receive your calls via the internet rather than via the traditional PSTN. HiHi2 is an example of such a phone.
There are many aspects to telephony, but put simply when a call is made it reaches the internet via your router and then is sent to your PBX. Looking up the destination of your phone call it communicates with a series of switches and gateways to correctly route your call and establish a connection. Once this connection is created, a signal is sent to permit the audio of your phone call between the two end points.
A telephony device can mean a physical phone on your desk, a piece of software on your computer which allows you to make calls or another device which allows you to make and receive calls. We supply HiHi2 and other desk phones as well as a wide array of mobile devices.
Cloud PBX works in a similar way to a conventional PBX, the main difference is its location which is in a data centre rather than in your office. Your PBX (Private Branch Exchange) is the part of your phone system which allows calls to be made and correctly routed.
Telephony service refers to the delivering of the ability to make and receive phone calls. This can be done using the traditional PSTN network, the more modern VoIP method or, most commonly, a combination of both.
Our commitment
to you
Our relationship doesn't end after your business phone system has been installed. We'll be here for you whenever you need us.
The right phone
system for you
4Com is much more than a telecommunications service. We're your business phone partner, and we're here to offer you and your company support all day, every day from the moment you enquire about our products.
Professional
installation
It's business as usual when you choose to switch to a business phone system from 4Com. We'll take care of everything, installing your new system first alongside your existing setup to cause no disruption. Once installed, we'll seamlessly switch you over.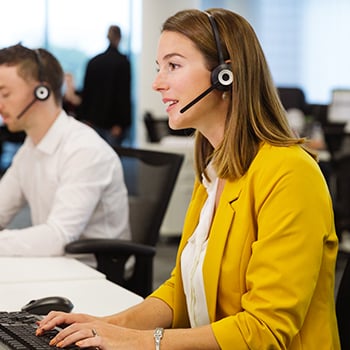 Helpful UK
based support
Our expert support team are based right here in the UK, at our Head Office in Bournemouth. If they can't resolve your issue over a call, they'll arrange for one of our support engineers to visit you as soon as possible. Our engineers are road-based and stationed throughout the UK, meaning they can visit you quicker than many of our competitors.